LEADERSHIP PIPELINE
CLICK HERE TO APPLY!
Hear from past Graduates:
"If you want to get intentional with God's leadership plans for your life, then you will want to be a part of this amazing opportunity. Empowering, insightful and practical. Loved it!" -Tracy Gorman
What is the Leadership Pipeline?
This 8 month training program is designed to help you develop leadership skills and expand your influence. Each month you will focus on one leadership quality, learning from various leaders and speakers.Why should I apply?
Life Community's leadership pipeline is an 8 month training program that will consist of one session per month, typically the third Monday of every month. Each session is approximately 90 minutes. After the participants graduate, they can be invited to have greater leadership opportunities. If you are looking to gain knowledge, develop your natural leadership abilities or expand your influence, you should apply!

Program Overview Monthly Sessions:
Each participant will attend monthly leadership sessions on the third Monday of the month.
Service Project:
Each leader will participate in a service project in the spring benefiting our community. Each participant is required to work with 4 or 5 other participants to create and execute a service project that will benefit our community. This should be completed by March 31, 2022.
Curriculum:
Each participant will read 1 leadership book while in the program and we will discuss the book at each monthly session.
Tours:
Each participant will have the opportunity to participate in "tours". Tours give you an inside look at various ministries connected to Life Community and around the valley.
Cost:
The total cost of the program is $100 plus the cost of the book. $70 will cover the cost of the S2 conference November 8-10. $30 will cover the cost of the DISC personality test. Each participant will be required to purchase the book for the program.
S2 Conference:
The S2 conference is a local conference November 8-10 (Tuesday night, Wednesday, Thursday morning). S2 is for all church leaders and volunteers. Your $70 covers registration for the entire conference, to receive 10 points, each participant is asked to attend at least one or all days of the conference. S2 is an annual conference located at Cornerstone Church in Chandler.
Expectations:
To graduate, every participant is required to obtain 110 points.
7 sessions- 10 points each = 70 points
2 Tours- 10 points each = 20 points
1 Service Project= 10 points
Book Summary= 10 points
What if I don't attend Life Community?
This program is for valley leaders, not just individuals from Life Community. You are not required to attend Life Community to apply to this program.
What are the topics?
Every month you'll learn receive training in various areas such as Personal Development, Counseling, Biblical Worldview, Personality Styles, Networking, Outreach and Personal Fiscal Development. A full schedule including dates and speakers will be available at your in-person interview.When does the Pipeline begin?
We are currently accepting applications through July 15th. After your application is submitted, you will be invited to a brief in person interview.
Tentative Dates:*SUBJECT TO CHANGE
Once a month on a Monday, 6-7:30pm
August: Orientation
Led by Delmer Geesey and Staff
Get to know the class, explanation of Program, hear the story and mission of Life Community Church
September: Personal Fiscal Development
Led by Delmer Geesey
How to win with money
October: How to tell your story
Led by Roy Sublasky
Learn how to tell your story and share the gospel at the public speaking workshop
-
November 8-10 th: S2 Conference
S2 is a 3 day conference designed to strengthen and multiply your ministry, and leadership in a way like never before. This year we will be focusing on ways God can multiply our influence and ministry across the globe. The conference is Tuesday evening, Wednesday all day and Thursday morning.
December:
No Class
January:
DISC Personality Styles
Candy Body
Learn you personality style
February: Personal Development
Greg Johnson and Jaime Johnson
Learn how to lead yourself by making habits of a daily quiet time, mental health, emotional intelligence and giving
March:
Biblical Worldview
Delmer Geesey
FRIDAY in April:
Graduation: Dinner and Celebration
Click here to apply!
Congratulations to our Class 1 graduates!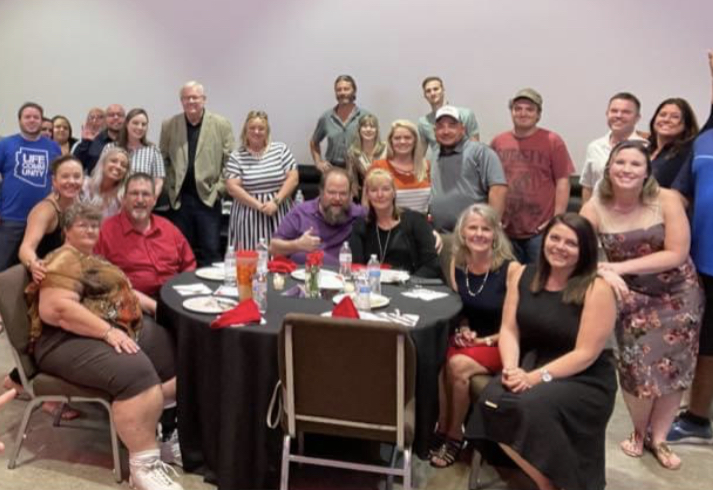 Class 2 Graduates: